January 1, 2017
A Memorial and Celebration of Dean torges' Life
Family and all friends are invited to join together on April 22, Earth Day, in loving memory of Dean.
We will have an informal gathering to celebrate Dean's life and to share our stories and memories.
Lunch will be provided, but feel free to bring a dish if you so choose. Also, please RSVP.
When: Saturday, April 22, 2017, Earth Day, 11:00AM
Where: Highbanks Metro Park (Northern Shelter)
9466 Columbus Pike, Lewis Center, Ohio 43035
Please RSVP by April 2
email Mary at: gepetto@bowyersedge.com
or call Mary at: 740-666-2861
or text Beth at: 614-425-2921
November 6, 2016
Dean Torges 1941-2016
On November 4, 2016, Dean Torges crossed the Great Divide. He was a loving husband, father, grandfather and friend and mentor to countless people around the globe. He was a gifted craftsman who would literally hand you the shirt off his back if you chanced to admire it. A number of years ago I shared a memorial written for an elderly friend of mine who had passed and Dean commented that it was the most eloquent valedictory as he had ever read. I share this with you all below, in loving memory of my friend, Dean. — Admin.
To those I leave behind when I go:
Death is nothing at all. It does not really count. I have merely slipped away into the next room. Nothing has happened. Everything remains as it was. I am me, you are you, and the life we lived together is untouched and unchanged. Whatever we were to each other we still are.
Call me by my old familiar name. Speak of me in the easy way you always did. Put no difference in your tone. Wear no forced air of sorrow. Laugh as we always laughed at the jokes we enjoyed together. Play, smile, think of me, pray for me—a little.
Let my name be the household word it always was. Let it be spoken without effort, without the ghost of a shadow upon it. Life means all that it has ever meant, the same as it ever was. There is absolute and unbroken continuity. What is death but an unavoidable incident? Why should I be out of your mind because I am out of your sight?
I am but waiting for you—very near—just around he corner.
All is well.
All my love,
Dean
A word about Dean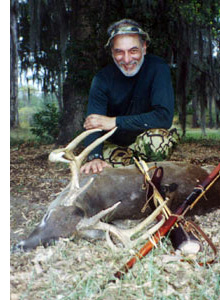 I've known him since boyhood. Dean Torges grew up feral in St. Clairsville, a small town tucked into the folds of eastern Ohio. His father died early and he became the respected companion of gray hunters and sly poachers in battered pick-up trucks, more a part of the seasons than of the town.
With the exception of a university education and teaching at Ohio State, he never abandoned that deep-woods parent or the already antiquated life that fit him like a familiar flannel shirt. But he didn't abandon society, either. He took philosophy and literature into the woods, and brought out his own reflections, and an easy, fresh voice of expression.
He stood for a time among the outstanding art woodworkers in American shows. High art and the production business didn't sit comfortably on his shoulders. To an outsider his life seemed to turn away from society, but his friends saw that he was progressing along his own long-laid lines, creating his own doctorate, lengthening his hunts, foraging farther, learning more.
Here is a pivot point: Dean met the wooden bow. He became enthralled by the discipline and beauty of the bow's plainness. It was a tool that demanded skill in its creation and dedication to its use. Once again, returning to old ways wasn't a regression but another step on his personal path. That path has taken him the length and breadth of this country, and to Alaska and Germany, Africa, and Australia, hunting and giving bow-making seminars.
I'm making Dean sound more solemn and respectable than he actually is. He's charming, yes, but vaguely larcenous and volatile. I would trust him with my life but not my dignity. You'll meet him yourself through these pages.
Jan Adkins